"The Gardens: Kick-butt amusement park meets zoo. Very expensive admission price. If you go in through the gate."
The Gardens is a large combination amusement park and zoo (or, wildlife park) in the area of California where the Animorphs live. The zoo and amusement park areas are separated by an artificial lagoon, with animals on one side, and rides on the other.[1]
Michelle, Cassie's mother, is the head veterinarian at the Garden's zoo. The Animorphs often use the zoo portion of the Gardens to acquire morphs like elephants, tigers or dolphins and other exotic or uncommon animals. The main building houses the smaller animals that don't need as much space and is a "rain forest" for animals that need a warm habitat. The larger animals are outside in grassy areas that look like parks.
Known Animals
Edit
African Elephant
African Lion
Anaconda
Anteaters
Baboons
Bats
Black bears
Cape buffalo (Buffa-Human)
Cheetah
Cougar
Crocodiles
Dolphins (Chandler, Joey, Monica, Rachel, Ross and Phoebe)
Giraffes
Goose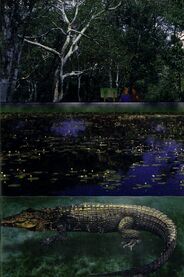 Gorilla (Big Jim)
Grizzly Bear
Hyenas
Impalas
Jaguars
Komodo dragon
Leopard
Mallard ducks
Monkeys
Mountain Goat
Orca (Swoosh)
Otters
Polar bears
Rhinoceros
Sea lions
Siberian Tigers
Snakes
Warthogs
Amusement Park
Edit
The park has numerous rides and attractions, such as Ferris Wheels, roller coasters, and water slides.
Appearances
Edit
References
Edit
Community content is available under
CC-BY-SA
unless otherwise noted.