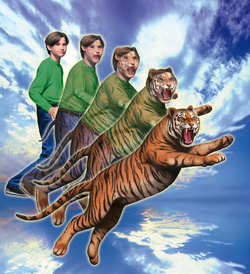 The Siberian Tiger is Jake's main battle morph.  
Acquiring
Jake acquired this morph in the The Invasion. He and the other Animorphs went to The Gardens to acquire battle morphs. Cassie leads them to the area behind the exhibits, justifying her presence by mentioning that her parents work there. During the trip the team got chased by a security guard and the team split up, running in different directions. Jake and Marco ran into the tiger's habitat. To stop the big tiger from eating them, Jake acquired the beast. This tamed the tiger, allowing them to escape. From the trip, Rachel got her African Elephant morph and Marco got his Silverback Gorilla morph.
Usage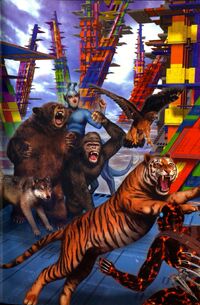 The tiger is Jake's battle morph. It is also Jake's favorite and most used morph. The morph is frequently admired by Visser Three, who expressed an interest in acquiring it as well.
Appearances
Known Morphers