Jurassic World: Dominion Dominates Fandom Wikis - The Loop
Play Sound

This article is a stub. You can help Seerowpedia by expanding it.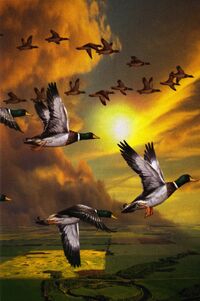 "This is a useful morph. I'm not tired after quite a bit of time in the air."
"Exactly. Plus we're flying in formation, and it looks normal. None of that bird-of-prey stuff where we have to fly miles apart and pretend we don't know each other. No offense, Tobias. I like swooping and gliding and riding the thermals as much as the next raptor, but every bird can't be a fighter jet. Sometimes you need a steady, reliable 747."
The mallard, also known as the mallard duck, is a waterfowl species native to Earth and is the ancestor of most domestic ducks. Despite being referred to as a duck, only the female is known as a duck or a hen, while the male of the species is referred to as a drake. Tobias, Marco and Ax morphed mallard drakes in The Absolute.
Acquiring
[
]
A male mallard, known as a mallard drake, was acquired by Tobias, Marco and Ax in The Absolute.
Usage
[
]
"The capitol was over two hundred miles away. The fastest way to get there was by air, and our normal bird-of-prey morphs wouldn't do the job. We needed distance flyers. Ducks."
To be added
Appearances
[
]