This article is written from a Real World point of view.
Katherine Alice Applegate
Biographical information
Species
Gender

Female

Hair color

Brown

Eye color

Brown

Born

July 19, 1956

Family

Michael Grant (spouse),
Jake (son),
Julia (daughter),

Occupation

Author

Affiliation
Behind the scenes
K.A. Applegate is the author of the Animorphs series.
Biography
Edit
Katherine Alice Applegate, better known as K.A. Applegate, is the author of the Animorphs series. Some of her other books written for young adults include Remnants, Everworld and Making Out.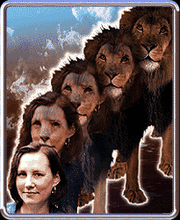 Applegate was born in Michigan in July 19, 1956. Since then she has lived in Texas, Florida, California, Minnesota, Illinois, North Carolina, and after living in Pelago, Italy for a year, she has moved back to southern California. She has been happily married to Michael Grant for over thirty years, and he has co-authored many of her projects including Animorphs and Everworld. Together the couple gave birth to a son named Jake in 1997, and in 2003, adopted their daughter, Julia, from China.
Following the end of Animorphs, Applegate took three years off. She is back at work and has written a picture book called The Buffalo Storm, a middle reader novel called Home of the Brave and an early chapters series Roscoe Riley Rules with Harper Collins.
Q&As about Animorphs
Edit
May 1997 - Online Event with K.A. Applegate [1]
October 21, 1997 - Barnes and Noble hosted an AOL chat with Applegate [2]
December 1-12, 1997 - Online Event with KA Applegate, posted on the scholastic web site[3]
December 1997 issue - Nickelodeon Magazine interviews K.A. Applegate (see picture below)
1997-1998 - Applegate answered fan questions on the fan site Morphz.com [4]
June 1998 - September 2000 - Due to legal reasons, Applegate ceased answering questions on Morphz.com and started to answer fan questions on a monthly basis on the scholastic web site, under the heading "According to K.A.". [5]
May 1999 - Scholastic Chat [6]
June 1999 - the back page of Book 31 The Conspiracy included a Q&A with Applegate
December 18, 1999 - KA spoke to fans in her first-ever video webcast.[7][8] - the first time she would be seen on video.
Toward the end of the series in 2001 - as part of the Animorphs Xtreme marketing campaign, According to K.A. was taken over by Yeerks and promoted The Sharing.[9]
April 28, 2011 - Reddit IAmA Q&A [10]
May 2011 - 5 questions with K.A. Applegate (video) [11]
Her name was printed as "K. A. Applegate" because the publisher was afraid boys would not want to read a book written by a woman. For similar reasons, Joanne Rowling used J. K. Rowling as her nom de plume.
Applegate has stated "My son was born premature in April of 1997 and spent 3 weeks in Neonatal Intensive Care. ...I remember sitting in a dark, abandoned lobby at the Minneapolis Children's Hospital every night, typing away at four in the morning on Animorphs, as exhausted and worried as I could be. After that, all the books were dedicated to Michael and Jake."
In 1998, she owned two cats: Rabbit, a sweet black Manx, and Dick, an evil foot-biting cat.[13]
According to PR Newswire, until her first-ever video webcast on December 18, 1999, Applegate "has basically communicated with her fans only through a handful of telephone and email interviews (USA Today, NPR, Nickelodeon Magazine, Everworld Web site, etc.), a couple of online chats, and in email-like letters featured in the "According to K.A. Applegate" question-and-answer area on the Animorphs Web site." At that time she had never before given an in-person interview or been seen by her fans on video.[14]
References
Edit
Community content is available under
CC-BY-SA
unless otherwise noted.