"Ax explained to us once that this was a unique Yeerk technology. The Andalite shredder whose technology the Yeerks used in developing the Dracon beam kills instantly, painlessly. The Dracon beam is specifically modified to destroy more slowly. The Yeerks want their enemies to feel the agony of cells exploding."
Dracon beams are hand-held weapons used by Yeerks and the Helmacrons.
Creation
[
]
"These fighters are armed with two Dracon beam weapons, a blending of Andalite shredder technology with some Ongachic particle-wave technology."
The Dracon beam was created in 1968 on the Hork-Bajir homeworld, when the Yeerks combined Andalite shredder technology with some of the Ongachic particle-wave technology that had stolen. The Dracon beams then became the standard-issue weapon for Controllers.
Usage
[
]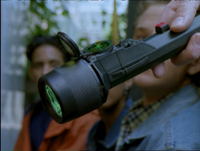 Dracon beams are Yeerk handheld weapons. They are a blending of Andalite Shredder technology with Ongachic particle-wave technology. Like Shredders, Dracon beams separate particles and essentially disintegrate objects and individuals. However, while Shredders were designed to kill as painlessly as possible, Dracon beams were purposely altered to inflict excruciating pain as they disintegrated their targets. They were used to destroy Elfangor's ship.
Trivia
[
]
Both Dracon beams and Shredders have been compared to the phasers from Star Trek.