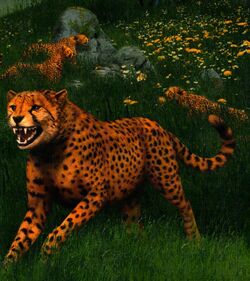 The cheetah is the fastest land animal on Earth and is an extremely endangered species. The Gardens obtained three Southern African cheetahs as part of a population conservation effort, which were acquired by Rachel, Cassie, Marco and Ax in The Weakness.
Acquiring
Edit
In an attempt to assassinate Visser Three, Rachel, Cassie, Marco and Ax acquired three cheetahs in The Weakness that The Gardens had recently obtained..
Assassination Attempt
Edit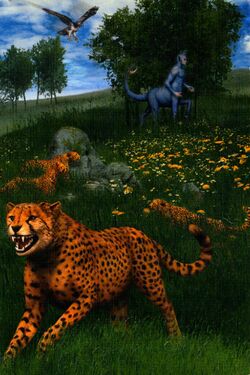 Rachel, Cassie, Marco and Ax used cheetah morphs in The Weakness in an attempt to assassinate Visser Three, whose private feeding ground Tobias had discovered. Although their speed allowed them to get a few hits in, their endurance was limited and thus were nearly killed when the visser was reinforced by the Garatron, who opted to spare the Animorphs, citing that it was Visser Three's responsibility to do so.
Battle Morph
Edit
Used by Ax
Edit
While attacking an airport in The Unexpected to prevent the Yeerks from obtaining and destroying a seized Bug fighter, Jake ordered Ax to use his cheetah morph as a battle morph, as there was uninfested humans in the airport.
Used by the Yeerks
Edit
Shortly after gaining the Escafil Device, a few human-Controllers acquired cheetahs. One of them fought the Animorphs in The Sacrifice, although he was subdued by Timmy and Collette and killed by National Guard troops. When the Animorphs succeed in destroying the Yeerk pool, several morph-capable Controllers morph cheetahs to flee the blast radius.
Used by Marco
Edit
Marco elects to use the cheetah morph as his battle morph in The Answer, when launching an attack against the Taxxons constructing the new Yeerk pool on Earth, as Marco chose to use logic and speed rather than the gorilla's brute strength.
Appearances
Edit
Known Morphers
Edit
Community content is available under
CC-BY-SA
unless otherwise noted.