Jurassic World: Dominion Dominates Fandom Wikis - The Loop
Play Sound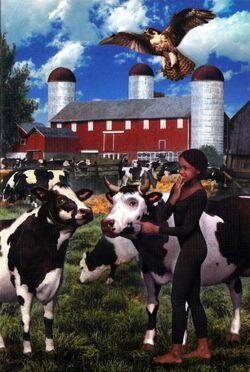 Cattle (colloquially known as cows) are large domesticated creatures native to Earth. While the term cow is used as a general description, only an adult female is a cow. Non-castrated males are referred to as a bull, while castrated males are called steer or ox. A bull morph was acquired by Tobias, Ax and Kelly, with Ax also possessing a cow morph.
Acquiring
Tobias and Ax acquired steer in The Experiment; however, because neutering does not affect DNA, the DNA they acquired ended up being bull DNA. Ax also acquired a cow, mistaking it for a steer. In The Ultimate, Kelly acquires a bull as her battle morph.
Usage
In order to infiltrate a meatpacking plant that the Yeerks had purchased, the Animorphs decided to use steer morphs to enter the facility. Rather than having them all morph, Jake decided that Ax and Tobias would morph the steer since, if they had to demorph in a state of emergency, they would not expose the Animorphs as human. The others would then morph flies and stay inside the steer's nostrils. However, because steer are neutered bulls and DNA is unaffected by neutering, Ax and Tobias morphed bulls instead. Ax also briefly morphed a cow, mistaking it for a steer.[1] When Kelly joins the Auxiliary Animorphs, she uses a bull as her battle morph.[2]
Appearances
Known Morphers
References
<references>