Jurassic World: Dominion Dominates Fandom Wikis - The Loop
Play Sound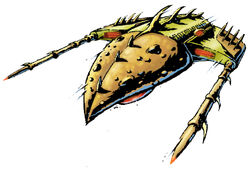 "Slowly the Bug fighters descended. It was easy to see where they'd gotten their nickname. They were slightly larger than the Andalite fighter and shaped like legless cockroaches. There were small windows like eyes on the forward-thrust head of the bug. And on either side of the head were two very long, very sharp, serrated spears."
―Jake
A Bug fighter is a small Yeerk spacecraft that is piloted by one Hork-Bajir and one Taxxon. They resembled cockroaches, hence the name, are about as big as a school bus, and have two long serrated spears on their sides that point forward which are actually Dracon beam emitters. The ships can be modified to travel underwater.
History
[
]
Creation
[
]
"We suspect that they have built fourteen fighter craft, based on a new design but similar in capabilities to your own Andalite fighters. These fighters are armed with two Dracon beam weapons, a blending of Andalite shredder technology with some Ongachic particle-wave technology. [...] Forty thousand Hork-Bajir hosts, maybe twelve of their new Bug fighters up and flying... that's what we call them."
In 1968, after conquering the Hork-Bajir homeworld, the Yeerks began mining, using their newfound knowledge to create Dracon beams, Bug fighters, and Blade ships, replacing the Ongachic, Hawjabran, and Andalite spacecraft they had stolen.
Usage
[
]
To be added
Gallery
[
]