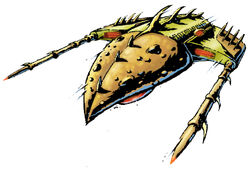 A Bug fighter is a small Yeerk spacecraft that is piloted by one Hork-Bajir and one Taxxon. They resembled cockroaches, hence the name, are about as big as a school bus, and have two long serrated spears on their sides that point forward which are actually Dracon beam emitters. The ships can be modified to travel underwater.
In 1968, after conquering the Hork-Bajir homeworld, the Yeerks began mining, using their newfound knowledge to create Dracon beams, Bug fighters, and Blade ships, replacing the Ongachic, Hawjabran, and Andalite spacecraft they had stolen.
To be added
Community content is available under
CC-BY-SA
unless otherwise noted.