Jurassic World: Dominion Dominates Fandom Wikis - The Loop
Play Sound

This article is a stub. You can help Seerowpedia by expanding it.
"The beaver didn't have the raw, quick strength of a tiger. But it did have amazing stamina. And its mind was smart in a goal-oriented, problem-solving kind of way. The beaver felt anxious to get to its project. Its mind was alive with a single thought. There are things to be done! It was the mind of a workaholic. There was a sapling. A dead branch just ahead. A vine beyond. Choose one and move! I was an enlightened worker bee. An ant with a college education."
―Jake
A beaver is a large, primarily nocturnal, semiaquatic rodent native to Earth. North American beavers were featured in The Resistance, with one being acquired and morphed by the Animorphs.
Acquiring
[
]
"Then she lifted the beaver to the surface. His body was still from the acquiring trance, buoyed weight. Good thing, because this guy had to weigh at least forty pounds, big and sturdy. The body of an industrious worker. One by one, including Tobias, we reached out to touch the slick, bristly coat."
―Jake
To be added
Usage
[
]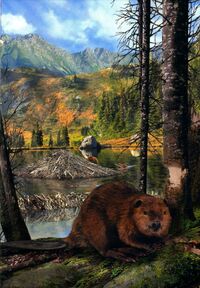 "Beavers damming the stream. The wall of wood and brush that held back the pond was leaking. The beavers were working hard to fix it. If the wall broke, all that dammed-up water would rush down the hillside, into the Hork-Bajir colony, and on through the valley floor. It was too good to be true. A wall of water rushing toward the colony, tunneling toward the attacking Yeerks? [...] That's when it hit me. If two beavers could dam a pond, five beavers could dam a whole lot more."
―Jake
To be added
Appearance
[
]
Known Morphers
[
]