The Animorphs Student Planner was a planner created by Scholastic for the 1999-2000 school year. For each of 44 weeks beginning with August 30, 1999, and ending with July 2, 2000, the left page would consist of a purple-hued picture of one of the Animorphs books inside covers (or in some cases the cover of a Megamorphs or Chronicles book), and the right page would consist of a space for each day of the week to write on, and four steps of the morph that corresponded with the image on the left page. The left page inside cover images were, for the most part, in descending chronological order based on publication date, starting with book 32 and ending with book 1. The very last week shows a picture of the Animorphs morphing dinosaurs, which was a promotional poster made around the time Megamorphs #2 was released.
You've got something on your mind...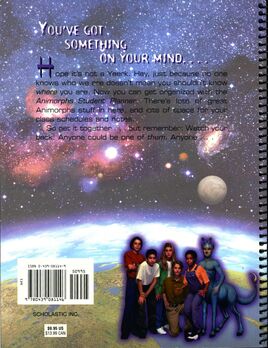 Hope it's not a Yeerk. Hey, just because no one knows who we are doesn't mean you shouldn't know where you are. Now you can get organized with the Animorphs Student Planner. There's lots of space for your class schedules and notes. So get it together...but remember: Watch your back. Anyone could be one of them. Anyone...
ISBN-13:9780439081146
Publisher:Scholastic, Inc.
Publication date: 06/10/1999
Edition description:SPIRAL
Pages:112
Product dimensions: 7.25(w) x 9.10(h) x 0.48(d) 
Age Range:9 - 12 Years[1]
Title page with spaces for school and property of
Copyright page
Class schedule for each quarter
Homework and Assignments (3 x 2pages)
Term Papers, Projects, & Special Assignments (2 x 2pages)
Sports & Activities Schedules
Plans for the Month (2 x 2pages, with space for each month from September 1999 - August 2000)
Six Pages of blank notes with an Animorph's picture and a title which corresponded to the Animorph's personality
Goals..Let's Get Organized Notes Page (Jake)
Shopping Lists notes pages (Rachel)
A Bird's Eye View of What's Happening (Tobias)
Special Causes (Cassie)
Crush Stuff (Marco)
Some Things are Just Out of This World (Ax)
Notes (3 x 2pages)
Friends and Addresses (2 x 2pages)
Birthdays and Special Days to Remember
Two-Year Calendar (January 1999-December 2000)
Back Cover with Summary and picture of Animorphs that is on Megamorphs #3 cover
Community content is available under
CC-BY-SA
unless otherwise noted.