In 1999, Hasbro released a small toyline based on the popular Animorphs book series by K. A. Applegate. The line was released under the Transformers brand name, though the two franchises have no relation to each other, story-wise. Animorphs toys were stocked on shelves alongside Beast Wars Transmetal 2 toys, and their presence may explain why the Transmetal 2 series was so small (only 17 toys).
Basic Information
Edit
Brand: Hasbro Ages: 5 and up
Retail Price: $9.99
(Each Deluxe toy came packed with a small Yeerk figure in either orange, purple, or red translucent plastic.)
Super: Tri-Rex (combiner)
Edit
Cassie (human/Tyrannosaurus rex tail)
Jake (human/Tyrannosaurus rex head)
Marco (human/Tyrannosaurus rex body)
No US release
Edit
Released in the US
Edit
Released Only in Europe
Edit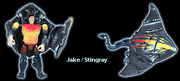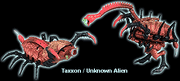 On Card - Deluxe Transformers
Edit
In Box: Mega, Ultra, and Super Transformers
Edit
International
Edit
Advertising
Edit
The Animorphs transformers were released in both 1999 and 2000, and were advertised:
in the back pages of the books themselves
in promotional postcards
in TV commercials
both the 1999 and 2000 International toy fairs in New York
in toy stores with the Make the Change contest
in Tomart's Action Figure Digest Magazine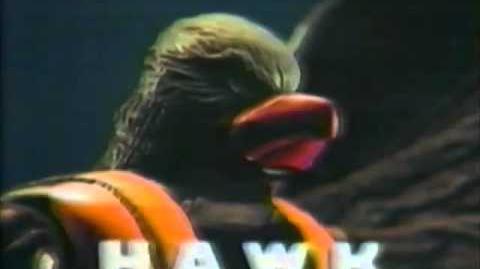 External Links
Edit
References
Edit
Community content is available under
CC-BY-SA
unless otherwise noted.